Bromsgrove Lions have taken over the maintenance of the Pat Chippendale Memorial Garden at the Princess of Wales Community Hospital.
Lions' members ensure the garden is colourful and well kept throughout the year, providing a haven for patients, visitors and staff away fom the clinical environment of the wards.
Bromsgrove Lions provide service and charitable support to our local community and help to fund the global humanitarian efforts of Lions Clubs International.
While there is an international element to what we do, 80 to 90% of our work and use of funds is local.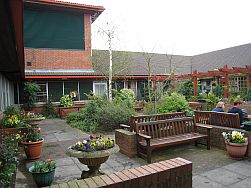 In common with all Lions Clubs, ALL money donated by the public is used for our charitable purposes with ZERO deductions for administrative expenses.
Administration is paid for by the members themselves through subscriptions and money raised at social events.