Within the local community Bromsgrove Lions provide support for:

The elderly
Providing food hampers at Christmas, entertainment and using welfare funds to resolve special needs

The youth
Financial support to youth groups, to individuals in support of their personal service activities, recognition and development of some of our best young people involved in community service through the "young ambassadors" scheme.

Encouragement for our local school pupils to participate in the Lions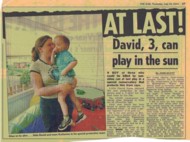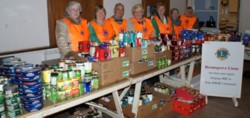 international annual "Peace Poster" competition.
The vulnerable
The club helps disabled and vulnerable individuals, using welfare funds for specific solutions that will make a difference to their quality of life
Health Issues in the UK
We have ambitions to do much more – particularly to bring the benefits of Lions national health awareness campaigns to this community.
The club's work hit the national news in 2003 - with the creation of a UV-screened conservatory for a local child, this cutting is from the "Sun" newspaper. 5 years later, when the conservatory required a major renovation, Bromsgrove Lions were there again, quietly providing support in our community.
Some of the fundraising amd service activities the club has worked on recently include: