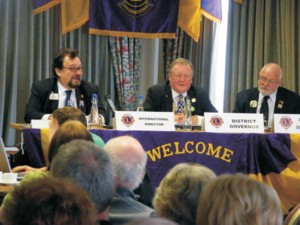 District Governor Andy Pemberton chairing the
district convention in Bromsgrove, March 2009
Lions actively encourages personal development through training, seminars and experience that will improve individuals' skills relevant to roles in the organisation.
Many of these also have relevance to people's working environments, with examples such as public speaking, presentation skills, leadership skills, project management experience, and conflict resolution.
For those who want it, there will be the opportunity to chair or participate in committees or project teams, both at Club and at District level.
Bromsgrove Club members have attended training courses or seminars including presentation skills, vulnerable persons policies, public relations, district officers training, health and safety and various Lions projects.